More about Caltech Learning Centre
CalTech Learning Centre is a beacon of opportunity and growth. We encourage independent thinking and develop our students' decision-making skills everyday.

Our goal is to augment the reading and comprehension skills of each student in a way that caters to their specific aptitude level. Each student is individually assessed to their academic level in literacy and in math and each program is customized to their level. Our daily numeracy program enhances financial literacy and time management skills while exercising critical-thinking. We welcome applications from adults of all literacy and learning levels who share one common trait - a desire to continue learning. Our classroom is taught by a qualified teacher with an Ontario Teaching Certificate who shares in this same passion.

There is a tremendous power in knowledge. As we continue to enrich the life skills of literacy and numeracy, we also help prepare our students to be more confident and self-sufficient in their own lives. Everyday we choose relevant topics to research and discuss that will enhance their knowledge base and give them the competency to know how to find an answer. Curiosity is a fundamental human trait. All students of any reading level have the capacity to find the answer to a topic they are interested in. We simply help them discover it.
There is also tremendous power in 'community'. Our students are part of a unique community of young people with interests and aspirations that are no different from the rest of us. And as they figure out their place in the classroom they find harmony, unity and an 'all-for-one, one-for-all' attitude. This is all part of their growth as members of the community and the social demographic within the classroom is a critical part of that. Students encourage each other and find joy in each other's successes. They find a 'best friend' and banter about the sports teams they support. In our classroom, there is an opportunity to work together for a common goal or take some time for silent reading or puzzles. Our objective is to allow students to discover their individuality in a supportive learning environment, which will inspire them to move forward in their own lives with enthusiasm, confidence and a sense of belonging.
Our Principles
"The two most important life skills a person can have are literacy and math skills. Since opening in September 2008, we have not found any student to have been 'leveled off' or 'hit a plateau' in their learning. We believe they don't, and we have a whole life ahead of us to prove it."
"Every person should have the opportunity to continue learning if they want to." ~ S. Longley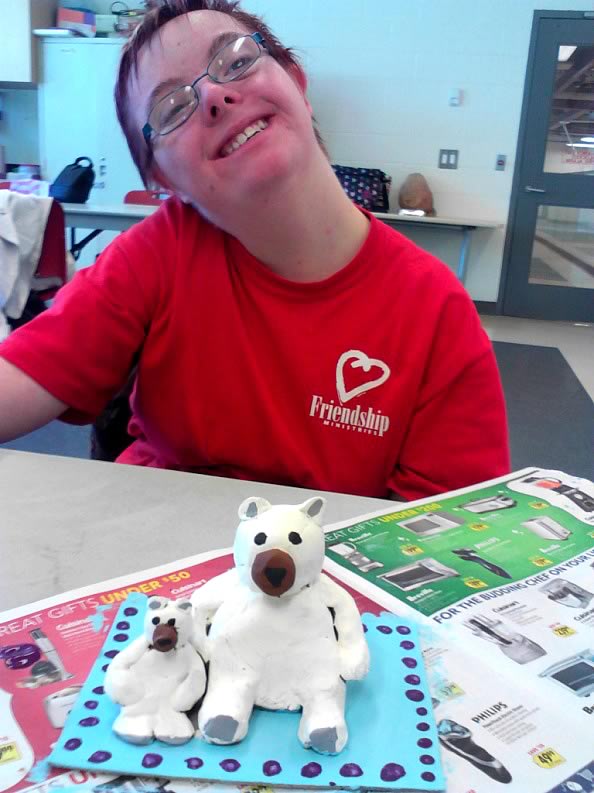 Our History
When I gave birth 32 years ago to a daughter with Down syndrome, an incredibly wise pediatrician told me two things: 1. Never stop teaching her – she will never stop learning. And 2. Treat her different, she will be different. This became the foundation for raising our daughter. Through the years of public school (early ones, good, later ones, not so much) it was evident that given the right teacher with the right attitude, Cheryl blossomed in her learning. One day after Cheryl finished high school, she asked a simple question. Why does her brother get to go to university and not her? There is only one answer to that question, so we incorporated a 'university' for her, and young adults like her. CalTech Learning Centre was born. It started with a single student, and a very gifted retired schoolteacher named Cathy. Today, a full classroom of students meets every Monday, Wednesday and Thursday to read, socialize, create, and continue their lifetime of learning. Some of our students are verbal, some are not. Some already know how to read, some are at an early learning level. But they all have a way to communicate that becomes understood by their peers, and they all learn together. A quick peek into the classroom the first hour of every day will find the students gathered around a newspaper, discussing the current events of the day — everything from politics, weather, local news, and even a Blue Jays trade. Students have definite opinions on the matters of the day, and we encourage the banter and dialogue as they defend their ideas. This is what its all about……no difference.